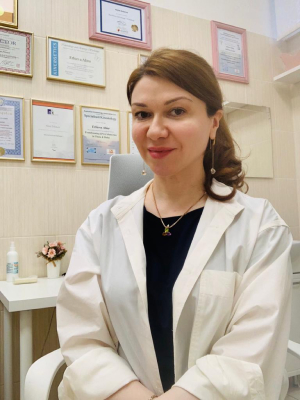 Alina Erbieva
Doctor of rehabilitation medicine, psychoneurokinesiologist, dietitian, doctor of functional diagnostics, accredited member of the Russian Association of Complementary Medicine, member of the International Society of Traditional and Alternative Medicine, since 2009 kinesiologist and specialist on working with stress through kinesiology.
Alina has been practicing complementary medicine for 16 years. Is using techniques of Energy Kinesiology, bio-resonance diagnostics and live blood analysis on darkfield microscope, methods of the Innovative Psychotechnology Institute.
Alina uses the following methods:
- Kinergetics (Philip Rafferty)
- Touch for Heath (Wayne Topping)
- Transforming DNA Memories, Return to Love (Sylvia Marina)
- Australian neurokinesiology method – work with neuroenergetic emotional pathways NEPS (Hugo Tobar)
- Applied Physiology (Richard Utt)
- Original methods of TMJ (temporomandibular joint) correction – RESET and Toxicity and Minerals Balance (Philip Rafferty)
- SEST – Sequential energy system tuning (Boris Shoitov and Jan Berg).
Dietology: Finding the reason for weight gain and selecting an individual weight loss course without any harm to health
Education:
- Pirogov Russian National Research Medical University, continuing professional development in Diagnostic Techniques in Medicine
- Faculty of Continuing Medical Education of the People's Friendship University of Russia, Nutritiology and Dietology
- Innovative Psychotechnology Institute